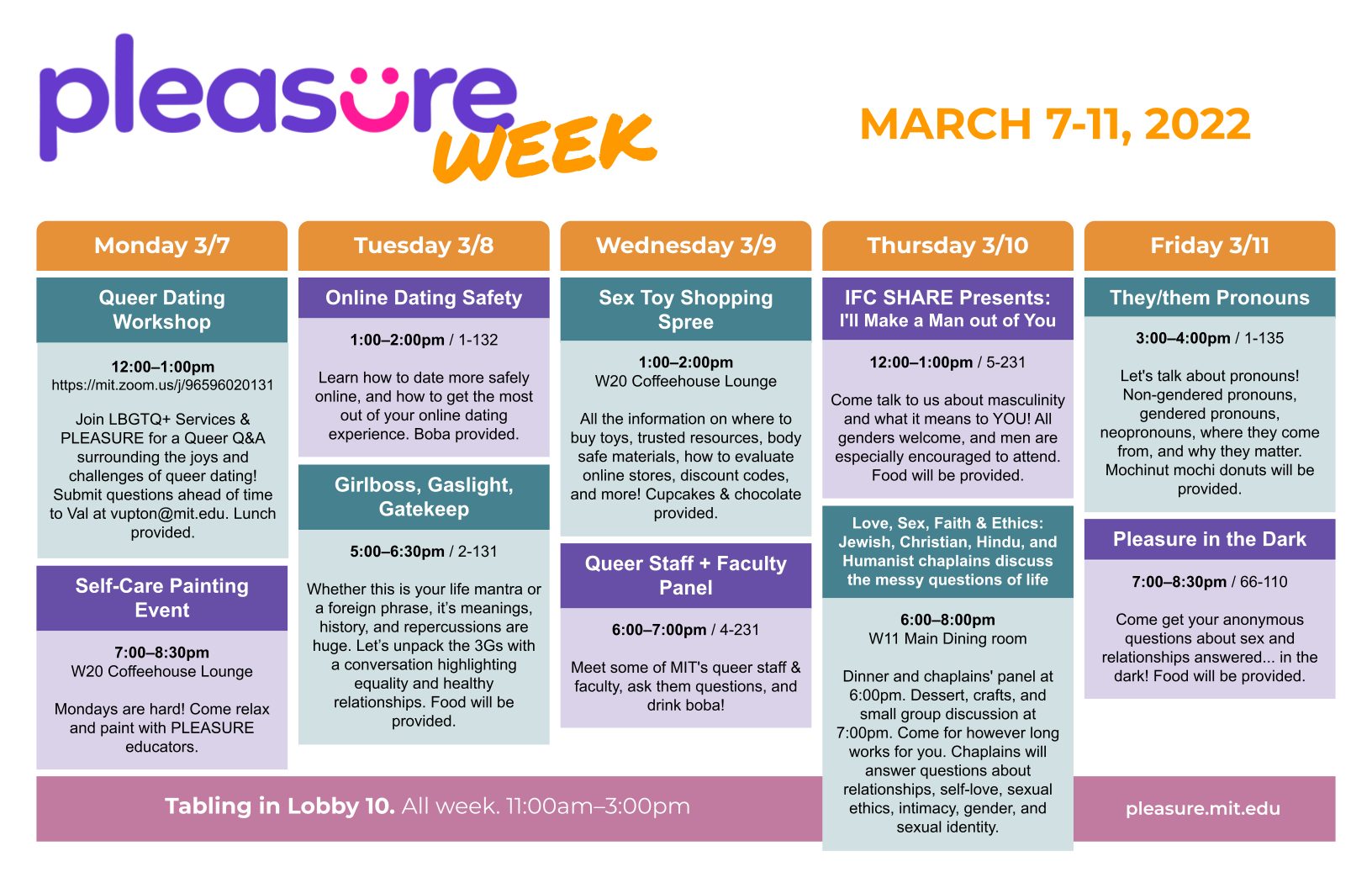 Monday, March 7
Queer Dating Workshop
12:00-1:00pm / https://mit.zoom.us/j/96596020131
Join LBGTQ+ Services & PLEASURE for a Queer Q&A surrounding the joys and challenges of queer dating! Submit questions ahead of time to Val at vupton@mit.edu. Lunch provided.
Self-Care Painting Event
7:00-8:30pm / W20 Coffeehouse Lounge
Mondays are hard! Come relax and paint with PLEASURE educators.
Tuesday, March 8
Online Dating Safety
1:00-2:00pm / 1-132
Learn how to date more safely online, and how to get the most out of your online dating experience. Boba provided.
Girlboss, Gaslight, Gatekeep
5:00-6:30pm / 2-131
Whether this is your life mantra or a foreign phrase, it's meanings, history, and repercussions are huge. Let's unpack the 3Gs with a conversation highlighting equality and healthy relationships. Food will be provided.
Wednesday, March 9
Sex Toy Shopping Spree
1:00-2:00pm / W20 Coffeehouse Lounge
All the information on where to buy toys, trusted resources, body safe materials, how to evaluate online stores, discount codes, and more! Cupcakes & chocolate provided.
Queer Staff + Faculty Panel
6:00-7:00pm / 4-231
Meet some of MIT's queer staff & faculty, ask them questions, and drink boba!
Thursday, March 10
IFC SHARE Presents: I'll Make a Man out of You
12:00-1:00pm / 5-231
Come talk to us about masculinity and what it means to YOU! All genders welcome, and men are especially encouraged to attend. Food will be provided.
Love, Sex, Faith & Ethics: Jewish, Christian, Hindu, and Humanist chaplains discuss the messy questions of life
6:00-8:00pm / W11 Main Dining room
Dinner and chaplains' panel at 6:00pm. Dessert, crafts, and small group discussion at 7:00pm. Come for however long works for you. Chaplains will answer questions about relationships, self-love, sexual ethics, intimacy, gender, and sexual identity.
Friday, March 11
They/them Pronouns
3:00-4:00pm / 1-135
Let's talk about pronouns! Non-gendered pronouns, gendered pronouns, neopronouns, where they come from, and why they matter. Mochinut mochi donuts will be provided.
Pleasure in the Dark
7:00-8:30pm / 66-110
Come get your anonymous questions about sex and relationships answered… in the dark! Food will be provided.
All week
Tabling in Lobby 10
11:00am-3:00pm